Hollywood Beachside Boutique Suites
26.015673

,

-80.11705
Hollywood

,

United States

|
87US$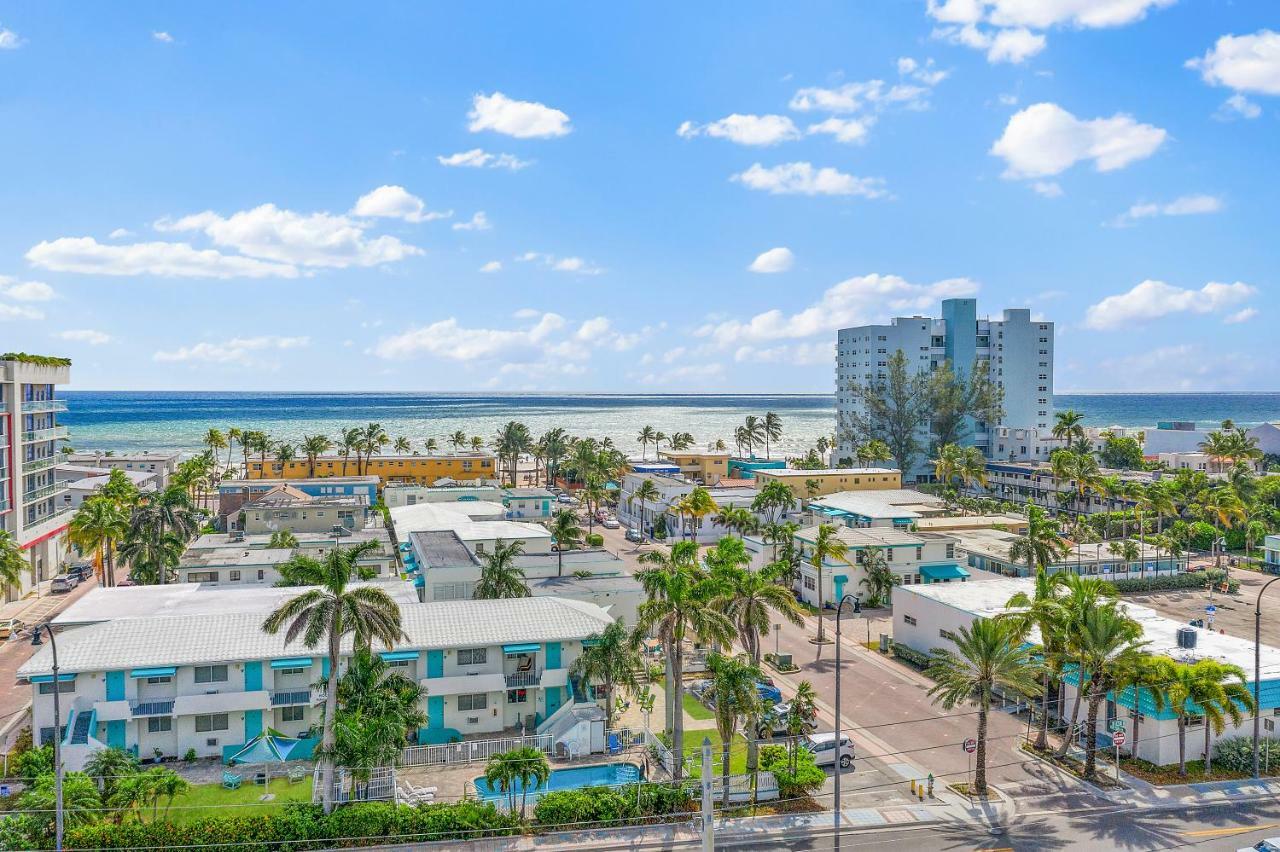 Address
609 North Ocean Drive
,
Hollywood
,
Florida
,
United States
,
33019
, Florida
Overview
The 3-star Hollywood Beachside Boutique Suites enjoys a convenient location in vicinity of Ocean Blu Beachwear and a range of facilities, such as a picnic area, a swimming pool and a garden. Boasting relaxing retreat options, Dania Beach is set 3.1 miles away from this wonderful hotel, which is set a few minutes drive from Gulfstream Park.
Location
The Hollywood hotel is nestled 2.2 miles from the Old-timey Holland Waterfront Park, and around the corner from restaurants, eateries and cafés. Guests can explore Hollywood Boardwalk, located a 6-minute stroll away, while expressway is around the corner from The Beachside Boutique Suites. The Hollywood property is also nestled around the corner from shops, a bakery and a supermarket, and The Casino at Dania Beach lies 10 minutes' drive away. The nearby entertainment options include The Big Easy Casino, which is around 2.7 miles away.
Rooms
Some of the comfortable rooms are equipped with iron/ironing board and climate control, and media facilities like Wi-Fi and multi-channel TV. The rooms are decorated with comfortable items and some of them have a microwave and a fridge. The private bathrooms are equipped with hairdryers and guest toiletries.
Eat & Drink
A day at Beachside Boutique Suites Hollywood begins with a light breakfast. Guests can unwind in the American-style restaurant, which serves contemporary American cuisine. You may walk 5 minutes to GG's Waterfront or eat by Giorgio's Bakery & Bistro, located within 400 feet away.
Leisure & Business
Upon request and at a surcharge, a picnic area and a community pool can also be provided.
Internet
Wireless internet is available in the entire hotel for free.
Guest Parking
Public parking is possible on site at USD 12 per day.
Year renovated:   2011.  Number of rooms:   48.
Facilities
General
Wi-Fi
Parking
Food/ Drinks
Fitness/ Gym
Swimming pool
Laundry
Facilities for people with disabilities
Toilet for disabled
Bathroom for disabled
Spa & Leisure
Outdoor swimming pool
Beach access
Sun loungers
Garden area
Room view
Sea view
Garden view
City view
Mountain view
Pool view
River view
Landscape view
Room features
Air conditioning
Sitting area
Patio
Garden furniture
Tea and coffee facilities
Ironing facilities
Self-catering
Cookware/ Kitchen utensils
Good to know
Check-in
from 15:00-23:00
FREE
Check-out
until 11 am
FREE
Children & extra beds
Maximum capacity of extra beds in a room is 1. 
Pets
Pets are not allowed.
Rooms and availability

Bed options:

Max:

2 persons
City view

Coffee machine

Balcony

Air conditioning

Bed options:

Max:

2 persons
Sea view

Air conditioning

Sea view

Non-smoking

Coffee machine

Balcony

Air conditioning
Location
609 North Ocean Drive
,
Hollywood
,
Florida
,
United States
,
33019
, Florida
City landmarks
Nearby
Restaurants
Hotels nearby
Nature reserve
Anne Kolb Nature Center
1.5 mi
Spa Centre
Hollywood Beach Broadwalk
1.0 mi
Park
Hollywood North Beach Park
1.3 mi
Gallery
Art and Culture Center of Hollywood
1.5 mi
315 Madison St
Congregation Ahavat Shalom
2900 ft
Marina
Loggerhead Marina
5000 ft
Park
ArtsPark at Young Circle
1.6 mi
Store
Publix Super Market at Hollywood Circle
1.6 mi
1945 Hollywood Blvd
Downtown Hollywood Mural Project
1.9 mi
Beach
Beach at the Diplomat Beach Resort Hollywood
1.7 mi
4414 N Surf Rd
Carpenter House at Hollywood North Beach Park
1.7 mi
2017 Harrison St
Goddess Store and Studio
1.9 mi
Casino
The Big Easy Casino
2.3 mi
2800 E Hallandale Beach Blvd
Hallandale Beach Oceanfront
2.0 mi
1100 N Broadwalk
Hollywood Boardwalk
1500 ft
101 N Ocean Dr
Hollywood Beach Resort
1100 ft
Shopping Area
Ocean Blu Beachwear
1400 ft
Restaurant
Logan's Beach Bar
1500 ft
Restaurant
Yogurt Ur Way Cafe
1500 ft
Restaurant
Margaritaville Coffee Shop
1700 ft
Restaurant
Floridays Airstream Cafe
1800 ft
Getting around
Airports
Fort Lauderdale Hollywood

(FLL)
8.1 mi
Fort Lauderdale Executive (FXE)
17.8 mi
Train
Sheridan Street Station
3.4 mi
You can book a shuttle, once your reservation is complete.
Reviews of Hollywood Beachside Boutique Suites
Richard

Over Easter, my stay in the boutique suite was awesome. The accommodation offered incredible services. Firstly, we enjoyed a delicious complimentary breakfast, which most importantly was served with love and a smile. Secondly, there was free WiFi, which was efficient and fast. Additionally, the suite's location was superb; it was just a stone's throw from the beach. The lively and vibrant environment was amazing, and we had access to numerous restaurants and shopping centers, all within walking distance. Furthermore, the accommodation was affordable, which allowed us to stay longer and enjoy all the fun activities and attractions nearby.

However, there were a few things that could have made our stay more comfortable. The pillows were too hard, but we managed to get around this by using extra pillows that were in the closet. Secondly, the construction happening nearby was a bit noisy, making it hard to sleep in the morning. Lastly, although the suite was spacious, it lacked lighting in some areas, making the room feel a bit dim. Despite the negatives, we had an overall fantastic experience in the quaint suite.

Jon

I loved the convenient location of the hotel, as it was only a short walk away from all the restaurants and shops on the Boardwalk. The staff were incredibly friendly and accommodating, allowing me to leave my bags at the office before check-in. The room was spacious and clean, with all the necessary amenities provided. I also appreciated the parking facility available at the hotel, making it easy to explore this city without worrying about my car.

Nothing at all.

David

The location was perfect for a weekend getaway, close to the beach and boardwalk, with a few great restaurants nearby. The room was clean and well-equipped with a mini kitchen, making it easy to prepare small meals. The staff were friendly and helpful.

Unfortunately, the noise level was high, and we had some rowdy guests in the room above us, resulting in a couple of sleepless nights. Additionally, the Wi-Fi was unreliable and expensive to use, despite it being advertised as free. a decent spot for a short stay, but perhaps not the best option for those seeking a peaceful retreat.

J.

Our weekend stay was enjoyable. The hotel's beach towels and fold up chairs were very convenient for our beach day. The small kitchenette was a plus and the sunsets from our patio were breathtaking. The private pool was an added bonus that our family enjoyed. The boardwalk location was fantastic, placing us in the midst of a long stretch of restaurants and bars.

One negative point was the parking situation, as there was not enough spaces for all the guests and employees. We had to wait longer than expected for parking during our stay. Additionally, the noise level between rooms was high and slightly disruptive.

Ray

Lots of goodies for breakfast.

Disappointing area.

Tim

Clean trendy boutique hotel with courteous and caring staff. Comfy location close to the beach. The property close to restaurants and bars. The hotel of choice in Hollywood.

Jamie

This hotel is in a fantastic location, just steps from the beach which was amazing. It was great to be able to spend the day at the beach and then quickly walk back to our room. The room we stayed in was very comfortable, with a cozy bed and great service. We also enjoyed the beautiful view of the ocean from our balcony.

The hotel gym was very small.

Lee

The hotel with huge rooms, in a good area, to everything else in the area. Magnificent location for our visit to a beach park just a pleasant stroll away from the venue. Very relaxing stay for a week vacation.

Stephen

Loved our newly remodelled and huge rooms.

The staff was pleasant - we will be back. That was perfect hotel set in good area, close enough to the boardwalk and the beach and water taxi.

Stephen

Nice large room with the bedroom, the kitchen, a closet space. Paid US$ 176.

Unfortunately Wi-Fi was very poor.

Tony

The room they gave us was recently renovated and huge with a kitchen and secluded patio and a closet space.

Jeff

Besides, the location was marvellous and convenient for our stay, within 10 minutes' walk of a beach park. On top of that, bars and eateries were close to the property.

Philip

The folks working here were accommodating and fantastic. The location was convenient and top, within walking distance of Oceanwalk Mall. The hotel was close to bars and restaurants.

Their staff were appalling.

Bill

Little hotel, new-fashioned rooms, bravo!

The venue is fairly clean, with marvellous location really close to the beach, water taxi and restaurants. The rooms with a closet space.

Frank

The location was amazing, for example, a beach park was within walking distance of the hotel. Was in a good area and close to bars and restaurants.

Some of the staff were not very friendly.
FAQ about Hollywood Beachside Boutique Suites
Which attractions can we visit during our stay in the 3-star Hollywood Beachside Boutique Suites?
Anne Kolb Nature Center, set within 1.7 miles from the 3-star Hollywood Beachside Boutique Suites as well as Dania Beach placed just a 15-minute drive away are well worth visiting. If you want to explore even more landmarks in Hollywood, visit Hollywood Beach Resort, which is located 0.2 miles away.
Which landmarks are the closest to the Beachside Boutique Suites?
Guests of the Beachside Boutique Suites can visit Ocean Blu Beachwear (0.3 miles), or Hollywood Boardwalk placed within just a 6-minute walk.
What are the recommended dining options during the stay at Hollywood Beachside Boutique Suites?
Unfortunately, Hollywood Beachside Boutique Suites doesn't have on-site restaurants, but guests can dine in GG's Waterfront and Giorgio's Bakery & Bistro restaurants placed within a 5-minute walk from the property.
What is check-in and check-out time at the wonderful 3-star Hollywood Beachside Boutique Suites?
Guests of the wonderful 3-star Hollywood Beachside Boutique Suites can check in from 3 PM to 11 PM and check out from 11 AM.
How much is a room at the hotel?
In the Hollywood Beach district of Hollywood, 3-star hotels offer an average nightly rate of $129. The room price at the hotel is $9 cheaper than the city average at only $120/night.
Which facilities are offered in the rooms of the Hollywood hotel?
Most rooms of the Hollywood hotel include a kitchenette and a dining area as well as Wi-Fi and multi-channel TV.